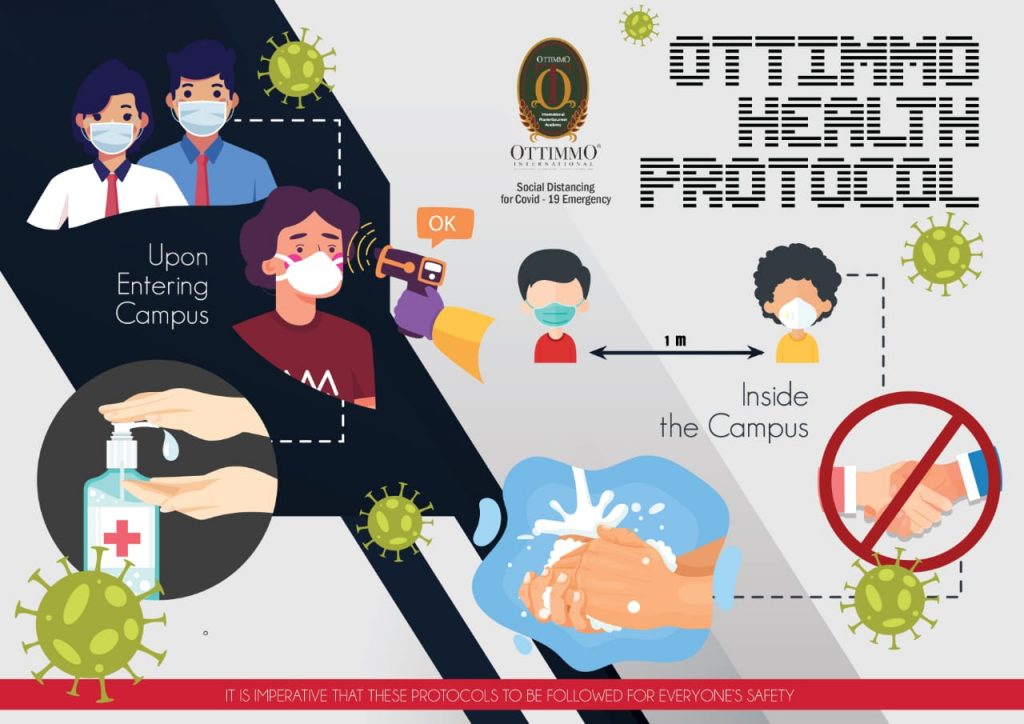 We care deeply about health abd safety of our student and staff during the covid 19 pandemic. So we apply strict health protocols in the campus area. The campus activities have not started yet, but we will apply this protocol for anyone who enters the campus area. There are the Ottimmo's Health Protocol during Covid 19:
Upon Entering Campus
No one is allowed to enter the campus without proper FACE MASK, such as; cloth face mask, N95 resirators or surgical mask.
Everyone without exceptions are subjected to BODY TEMPERATURE CHECK (37,5⁰C max), those who have higher than recommended will be advised to stay at home or seek medical assistance at nearby hospital.
HAND SANITIZER are installed at the entrance and most public areas inside the campus, everyone entering the campus is advised to use it.
Inside The Campus
Everyone MUST wash his/her hands before commencing any activities inside the campus. Hospital grade soap will be provided at each public areas, including all practical kitchen.
HAND SHAKES or TOUCHING another person is STRICTLY PROHIBITED inside the campus areas
PHYSICAL DISTANCING will be STRONGLY ENFORCED inside all the campus public areas and practical kitchen.
ALL STUDENTS are advised to leave campus immediately and return home once the practical class period has ended.
Efforts to make the campus a safe place
3 units of OTTIMMO UV – C EMITING LIGHTS will disinfect all public areas, office room and kitchen once all activities terminated every end of the day.
A team of PUBLIC HEALTH UNIT will "hourly" disinfect all OTTIMMO public areas, such as stairs railing, door handles, table tops, chairs surfaces, etc.
A team of PUBLIC HEALTH UNIT will "hourly" disinfect all OTTIMMO public rest room areas, such as toiletts, wash basins and rest room.
Type of DISINFECTANT currently used at OTTIMMO
Toilet Disinfectant : A mixture of Distilled Water, Bleach and Lavender essential oil.
Food Grade Disinfectant : A mixture of 95% Ethanol, Distilled Water and Tea Tree Oil/Eucalyptus Oil.
Natural Disinfectant : A mixture of Sodium Lauryl Ether Sulfate, Distilled Water and Sodium Chloride.