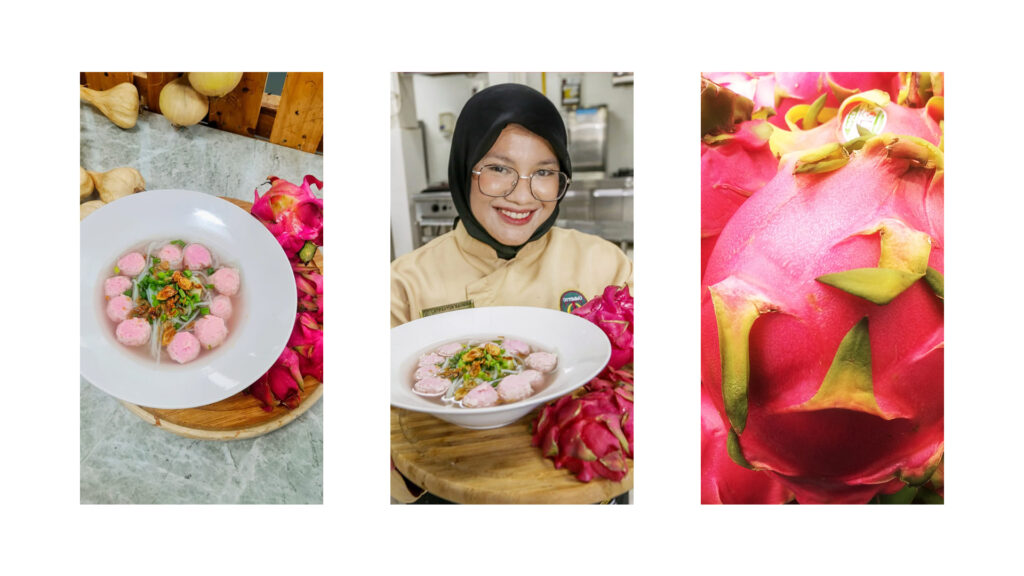 Every year DIKTI always provides grants for research by university lecturer. For the period 2021 – 2022, OTTIMMO International is innovating through research on meatballs which are very good for healthy, why? Because we made an innovation, namely meatballs made from dragon fruit skin. There are interesting things that we want to convey in it, here are the descriptions.
Meatballs is the Indonesian favorite food, because in addition to being quite affordable, the taste is also delicious. In general, meatballs are soupy foods made from processed meat mixed with wheat flour and rounded, then boiled in boiling water. Through research, the OTTIMMO International lecturer team made a breakthrough in making meatballs made from dragon fruit skin. As we know that usually dragon fruit is only consumed by the flesh, but not many know that the skin from dragon fruit can be reprocessed so that it becomes food, such as flour, and this time we processed it into meatballs. This meatball can be said to be eco friendly, because it utilizes food waste from dragon fruit, namely the skin.
How to process it? At the start of the preparation by washing the outer skin of the dragon fruit, then cut into pieces and ground or puree. The next step is to make a mixture of chicken meat, oyster mushrooms, garlic, salt and pepper, grind them together, then add the dragon fruit skin and grind again until well mixed. After this step is complete, then cook the dough so that it becomes a meatball, that is by preparing a pot that has been filled with water, then cook it until it boils, after that form a round dough (meatball shape), then put it in the water that has been prepared. boil earlier, after floating, then lift the dough.
These meatballs are certainly healthier than meatballs in general, it is because of the effects of dragon fruit skin which has high antioxidants and fiber that is good for the body.