Siu Mie, Jiaozi, Yu Seng, chicken and duck dishes are often served during the Chinese New Year, but did you know that other unique dishes can also complement dishes to celebrate the Chinese New Year? Of course, the dishes that we has present were unique, delicious and healthy dishes. Through a virtual event (IG Live) collaboration between Great Crystal schools which takes place on February 2, 2021 at 03 pm at Ottimmo International, we demonstrated Lion's Head Meatball and Buddha's Delight.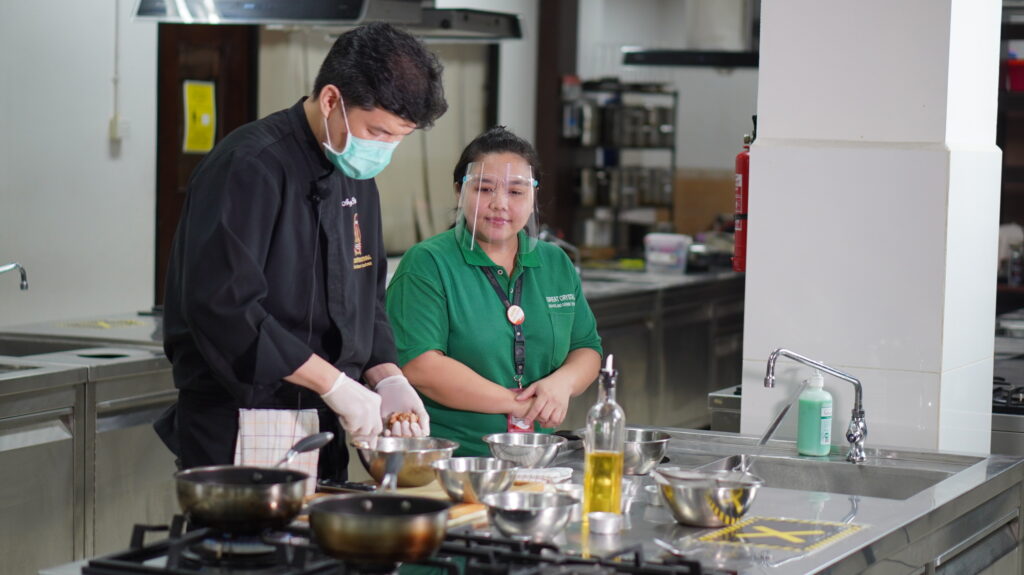 Not only demonstrating the dish, chef Arya Putra was also educate the meaning of the food. Lion's Head Meatball, fish head meatball (shīzitóu) is a medium-sized meatball served with vegetables. The name Lion's Head was taken from its shape which resembles the head of a Chinese guardian lion or dog Foo.
Lion's Head is a classic in Huaiyang cuisine, one of the four main dishes in China, representing the culinary traditions of East China and especially the province of Jiangsu. This dish can be eaten at any time, but can also be used as a holiday dish.
Buddha's Delight (Luóhàn zhāi), as the name suggests, is a traditional dish enjoyed by monks or Buddhists, but over time, it has grown in popularity and has become a common dish available in Chinese restaurants. In ancient times, this dish was served by every Chinese family to celebrate Chinese New Year following the Buddha's teaching that one should maintain a vegetarian diet in the first five days of the new year as a form of self-purification.
This dish consists of a variety of vegetables and other vegetarian ingredients (sometimes with the addition of seafood or eggs), which are cooked in a soy sauce-based liquid with other spices until tender. The specific materials used vary greatly both within and outside of Asia. Below are the dishes that we will demonstrate through the IG live event with the Great Crystal school as a unique selection of dishes for the Chinese New Year celebration.