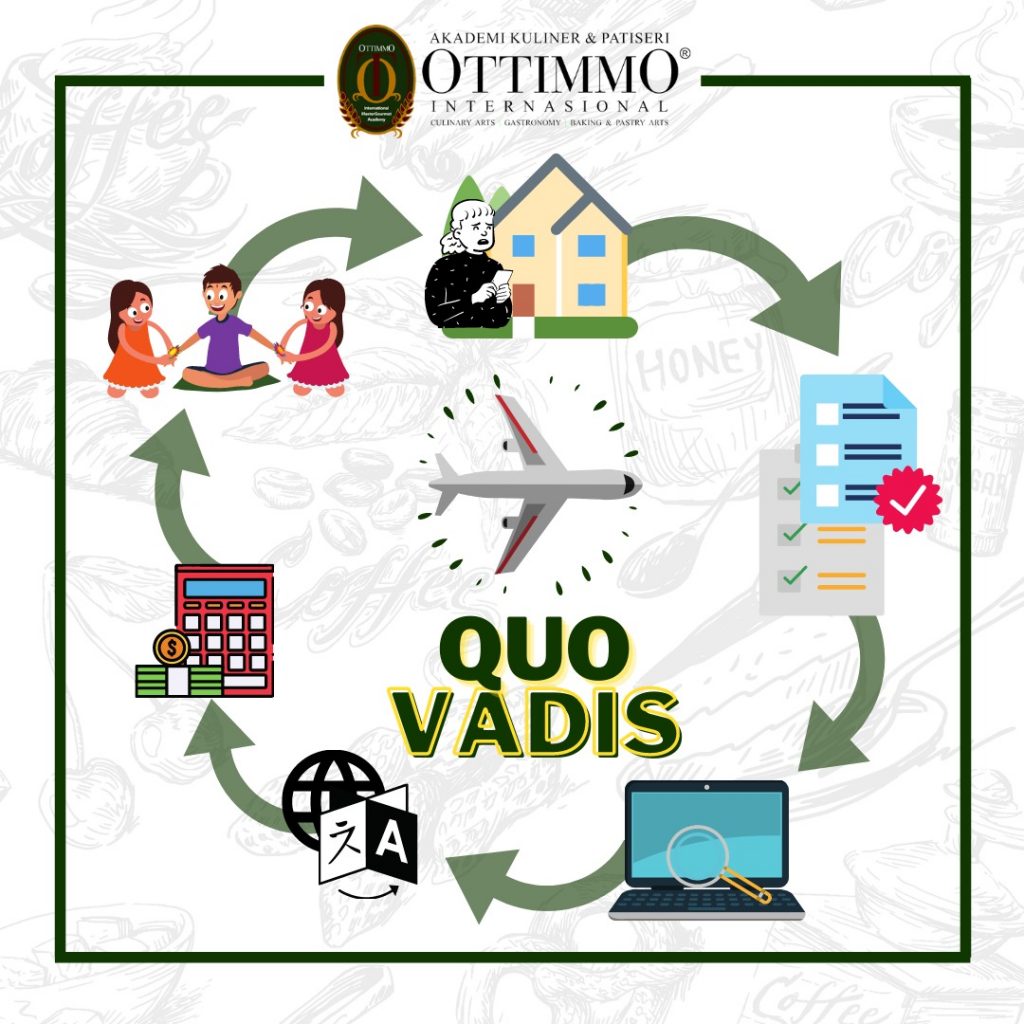 If you decide to study at OTTIMMO, you will reach the point to ask the question "quō vādis?" for your internship. It's a Latin phrase that means "Where are you marching?" or commonly translated as "Where are you going?" If you want to have your internship abroad but are not sure what to do, here is a simple guide for you to follow.
A Guide for OTTIMMO Young Chef to Internship Abroad
Where are you going after finishing your studies? This is the common question during the last year of academy. And most of the young chefs may deal with 3 dilemmas.
Staying local or going global?
Restaurant or hotel?
For those of you that decide to have an internship abroad, here are the tips to follow and what a young chef needs to do to realize their dreams.
1. Start to browse 1 year before
Research and make a shortlist of the country you would like to go to. Is it in Europe? Asia? Australia? Or else where. Ask the campus if they have any partnership with the country you choose.
2. Learn the language
When the country is set, now you have to register and start to prepare for the admission test or the language certification. Most of them require TOEFL, IELTS. If the main language of the country is not English, you might also need to take the language skill test to prove your qualification.
3. Plan the budget
Count the budget and project the cost needed which usually includes: the tickets (departure and return), the living cost, accommodation, transportation, and emergency fund.
4. Research about the local culture
Get as much information as you can about the local city or country culture, tradition and habits. This will help you come prepared and avoid doing the wrong things.
5. Home-sickness is normal
You might miss your hometown and that is normal. To lessen this feeling, bring some stuff that helps you feel at home. You can also make regular contact with your family or friends.
6. Prepare the documents
Around 6 months before the departure, start to check for the tickets and prepare requisite documents (resume, portfolio of your dishes, academic transcripts, passport, visa details, reference letter from the school, bank, etc.) and get ready for interview.
7. Last check everything
While waiting for your departure, make sure to prepare all the stuff. If the country has 4 seasons, find out more about the weather and what are the things needed that you can bring from here in case you will have a hard time finding the items when you arrive there.
8. Recommended applications
Languages translator
Skyscanner
Booking.com
Maps
TripAdvisor
WhatsApp
XE Currency Converter
BBC Weather
That's all and good luck for the internship session. Like the wise man said, "6 months of focus and hard work can put you 5 years ahead in life. Don't underestimate the power of consistency and desire."